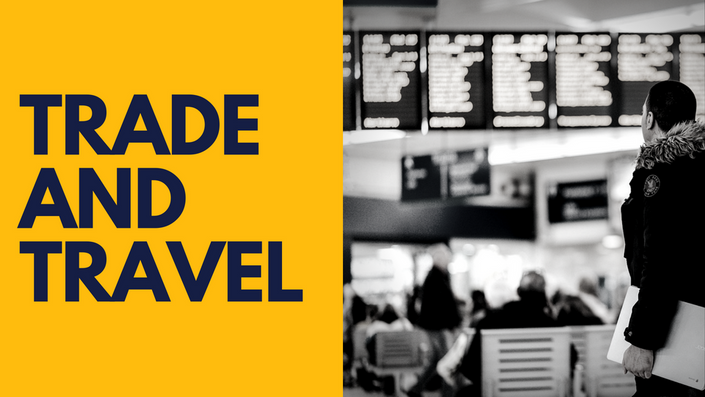 Trade and Travel
Learn how to supplement your daily, weekly or monthly income with trading so that you can live your best life!
Enroll in Course
off original price!

The coupon code you entered is expired or invalid, but the course is still available!
Did you know that I used to be an assistant principal of an elementary school? And before that I was a youth pastor?
Trading changed my life.
I always knew I wanted to help people. I wanted to make a difference in the world.
While I loved the work I was doing at the church and school, I was also being overworked and underpaid. I was on the clock all the time, stressed beyond measure, and generally feeling like I wasn't good at what I did. My self-esteem was shot, and I started gaining weight and feeling depressed. I was completely burnt out.
When a close friend passed away, I decided that life was too short to not be able to enjoy it. I decided I no longer wanted to live a life where I was overworked, underpaid and unappreciated.
I realized that I was making everyone else's dreams come true and not my own.
That night I wrote two words in my journal: trade and travel. That was my dream. I had always been interested in investing and had tried on my own, but failed. I also loved to travel, but never made enough money or had enough time off to do so.
This time I was committed. I enrolled in a class and set out on a new adventure to make my money work for me.
It took some practice, but my dream has come true! I now trade full-time and have the ability to travel as much as I want. My income is higher than it has ever been and I look forward to waking up every day to trade.
But I still want to help people, which is why I want to teach you how you can also be successful trading and change your life!
In my Trade and Travel course you'll learn more about the steps I took to get to where I am today, and you'll learn the tips and tricks that help me remain successful. I can't wait to share it with you!
Everything you need to successfully get started in investing, including opening your account, picking good companies, and placing the first trade.
As soon as you place your trade, you need a plan to protect your account from losses. This class teaches you how to prevent yourself from losing money.
The biggest struggle for investors is knowing what price to enter a trade. This class teaches you how to read stock charts, which is the best indicator of stock direction.
Once you've gotten all of the other steps down, this course takes your wins from one time surprises to frequent regular income. Learn master strategies to make consistent gains as a trader.
Learn how to invest in the stock market in our 4 self-paced classes, from beginner to advanced.
Participate in Coaching Calls
Connect with Teri and our student community to stay accountable and gain ideas for your next trade.
Invest in the Stock Market
Walk away from every course with new skills that you can implement in your own portfolio right away.
off original price!

The coupon code you entered is expired or invalid, but the course is still available!
Featured Courses

Teri Ijeoma
The materials and classes are for information and illustrative purposes only and does not purport to show actual results. It is not, and should not be regarded as investment advice or as a recommendation regarding any particular security or course of action. Opinions expressed herein are current opinions as of the date appearing in this material only and are subject to change without notice. Reasonable people may disagree about the opinions expressed herein. In the event any of the assumptions used herein do not prove to be true, results are likely to vary substantially. All investments entail risks. There is no guarantee that investment strategies will achieve the desired results under all market conditions and each investor should evaluate its ability to invest for a long term especially during periods of a market downturn. No representation is being made that any account, product, or strategy will or is likely to achieve profits, losses, or results similar to those discussed, if any. No part of this document may be reproduced in any manner, in whole or in part, without the prior written permission of Teri Ijeoma. This information is provided with the understanding that with respect to the material provided herein, that you will make your own independent decision with respect to any course of action in connection herewith and as to whether such course of action is appropriate or proper based on your own judgment, and that you are capable of understanding and assessing the merits of a course of action. Teri Ijeoma does not purport to and does not, in any fashion, provide tax, accounting, actuarial, recordkeeping, legal, broker/dealer or any related services. You may not rely on the statements contained herein. Teri Ijeoma shall not have any liability for any damages of any kind whatsoever relating to this material. You should consult your advisors with respect to these areas. By accepting this material, you acknowledge, understand and accept the foregoing.